Alumna Hanan Arnous says thank you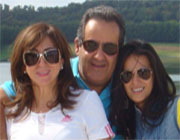 Alumna Hanan Arnous named in June 2010 two seats in Irwin Hall Auditorium after her parents Nadim and Najwa Arnous. "I felt this is a good idea to honor my parents who contributed from their heart towards giving me a great university education. I just want to say thank you!" she says. Two months later, she liked to leave a personal imprint on Beirut campus, so she named an adjacent seat after herself.
Arnous graduated from LAU with an MA in Education in 2003 and a BS in Chemistry in 2001. She is currently a part-time instructor in the School of Arts and Sciences in Beirut.
Stories by Topic