Camille and Michel Ghorra show gratitude to LAU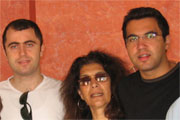 Alumnus Camille Ghorra and current student Michel Ghorra named in May 2009 a seat at the Selina Korban Auditorium on the LAU Byblos campus. "LAU has opened for us a whole new world of education and work opportunities. We chose to name the seats at LAU to express our gratitude to this institution that we love", the two say.
Camille is an alumnus who received his B.S. from LAU in 2003 and later his Pharm.D. He currently owns his own pharmacy in Mansourieh, Lebanon. As for Michel, he is still enrolled at LAU, majoring in Pharmacy as well, alongside his active involvement in the University activities.
Stories by Topic