Gilbert Chagoury gives LAU grant to help fund Nursing School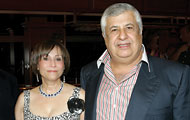 Businessman and philanthropist Gilbert Chagoury has signed an agreement with the Lebanese American University to support the establishment of a school of nursing.
LAU's first school of nursing, part of the new medical school on the Byblos campus, will be named the Alice Ramez Chagoury School of Nursing, in honor and commemoration of Chagoury's mother.
"The Lebanese American University is proud to be the recipient of Mr. Chagoury's generous donations, and will remain committed to promoting quality American education," said LAU President Joseph G. Jabbra. "The Alice Ramez Chagoury School of Nursing will help LAU students become future doctors and nurses that will serve Lebanon and the region."
In August, Chagoury presented the Lebanese American University with the first installment of a gift to help fund the Gilbert and Rose-Marie Chagoury School of Medicine.
LAU is in negotiation with Harvard Medical International (HMI) and North Eastern University for an academic agreement regarding the new school of nursing.
The Gilbert and Rose-Marie Chagoury School of Medicine is being developed in collaboration with HMI, a not-for-profit subsidiary of Harvard Medical School that extends the latter's tradition of excellence in clinical medicine, medical education and biomedical research by forming partnerships with institutions around the world.
The medical school will focus on research and health-care issues relevant to the population of Lebanon and the Middle East. Emphasis will be placed on genetic medicine and population genomics as determinants of health.
"The Gilbert and Rose-Marie Chagoury School of Medicine will represent a major qualitative boost to health care in Lebanon," said Dr. Kamal Badr, dean of LAU School of Medicine. "The school will infuse society with increasing numbers of graduates trained in the best tradition of American medicine." (this is an old quote, used in the August press release)
On an international level, LAU plans to collaborate with U.S. and European medical centers and universities to enhance training and employment opportunities for LAU graduates.
Chagoury is co-founder of the Chagoury Group, headquartered in West Africa. The Group's portfolio of activities includes construction and property development, flour mills, water bottling and purification, glass manufacturing, insurance, hotels, furniture manufacturing, telecommunications, IT, catering and international financing. The Chagoury Group provides a European standard safe working environment for all its employees and unrivalled access to private healthcare, pensions and family benefits.
Chagoury, who was born in Nigeria to Lebanese immigrant parents, left to attend the Collège des Frères in Lebanon. On his return to Nigeria, he joined a Nigerian company and quickly moved up the ladder to become one of the youngest executives of sales at the age of 17.
In 1967, during a visit to Lebanon, Chagoury met his lifelong partner, Rose-Marie Chamchoum. She is the daughter of a prominent Lebanese family whose business empire stretched across Niger and Benin. Both the Chagoury and Chamchoum families are natives of Mizyara, a village in North Lebanon.
Stories by Topic