In-kind Donation Allows LAU Students To Borrow Laptops Just Like Books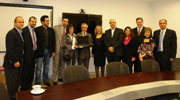 On December 1st 2009, following the Al-Adha feast and in the run up to the Christmas season, the spirit of giving was alive and well in a small pocket of LAU.
During a humble ceremony held in a conference room of the new library building on the Beirut campus, key members of staff and LAU's alumni community gathered to celebrate an in-kind grant donated by the Rotary Club Beirut Metropolitan (RCBM), in collaboration with the Dubai and Northern Emirates Alumni Chapter.
The grant consisted of 20 laptops, valued at over $20,000, which were donated to the LAU libraries in Beirut and Byblos. The laptops will be lent out to students with financial difficulties who have no laptops of their own but require them for their study.
LAU President Dr. Joseph Jabbra gave a short address during the ceremony, praising the efforts of the donors: "The best gift in life is the ability to give so that others may have life and have it abundantly."
Considering that both RCBM and the Dubai Chapter comprise LAU alumni, Dr. Jabbra also expressed his gratitude towards the alumni, highlighting their consistent contributions to the university.
"You are our pride," stated Jabbra, "and we are so honored to have you as members of this beautiful extended family that we call affectionately LAU."
The grant took over two years to bear fruit due to setbacks in funding caused by the global financial crisis of 2008, as mentioned Lana Abou Teen, the Assistant Director of Development, who welcomed the guests and praised the joint efforts that made the gift possible.
Initially, the laptops were to be funded by a matching grant from Rotary International, which was secured in 2008. However, according to David Zein, incoming president for RCBM 2010-2011, the 2008 financial crisis caused a "huge cut" in the budget of Rotary International, which was unable to donate the funds. "Thankfully," says Zein, "LAU Dubai Chapter joined efforts with us."
President of the Dubai and Northern Emirates Alumni Chapter, Saad El Zein, expressed his group's commitment to improving access to education for all students. "We understand the need of underprivileged students to satisfy their dreams," he said, affirming that the efforts of the Dubai Chapter and the alumni community in general are geared towards this goal.
Stories by Topic