Paying Tribute to Maggie…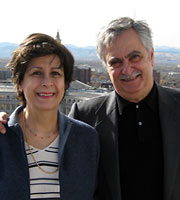 Nicolas Ghattas and his late wife Maggie in October 2006 in Denver Colorado
Nicolas Ghattas, husband of the late BCW class of 1967 alumna Maggie Kutteh Ghattas, has found one of the greatest ways of cherishing his loved one through naming an endowment scholarship fund after her.
By leaving this legacy of Maggie, whom he loved tremendously, he is giving well-deserved students a chance to be a part of an academic world that they maybe thought was impossible to reach.
Now in Maggie's memory, needy students are receiving his financial support, which allows them to make the right steps into their futures. Ghattas believes this endowment scholarship will give such great opportunities to people who love to learn. This gift will create as well a permanent memorial and legacy in reminiscence of Ghattas' beloved late wife, and will support his true passion for education.
Ghattas, a University of Massachusetts as well as Harvard graduate, now resides in the United States and is the president of American Properties, Inc.
Although he is not a LAU alumnus himself, he is showing his generosity to the university where his wife once received a quality education. Ghattas's act of love reflects how LAU, with the help and support of its extended family, can commit to academic excellence and improve the value of education among our youth.
Stories by Topic