Remembering the Man with the Biggest Heart: Jamil Iskandar Conference Room is Inaugurated on the Byblos Campus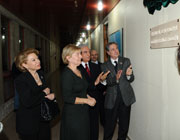 Former Lebanese President Amine Gemayel, Dr. Joseph G. Jabbra, Mrs. Mona Iskandar, and Mrs. Joyce Gemayel, at the dedication ceremony of the conference room in honour of the late Jamil Iskandar.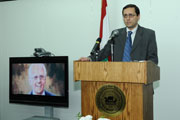 Dr. Benny Iskandar giving a speech.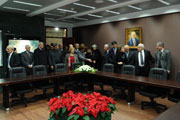 The Jamil Iskandar Conference Room.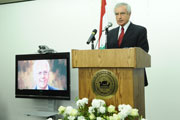 Dr. Jabbra giving a speech.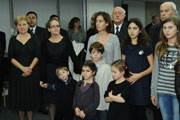 Mrs. Mona Iskandar, Mrs. Benny Iskandar, Mrs. Laudy Iskandar Essayli, and the grandchildren of the Late Jamil Iskandar, at the room dedication ceremony alongside members of the LAU community.
On December 16 2009, relatives of the late Jamil Iskandar (1928-2008) gathered alongside distinguished members of LAU in a memorial event commemorating Iskandar's life-long contributions to entrepreneurship, education and philanthropy in Lebanon.
The ceremony, held on the Byblos campus of LAU, was organized to mark the inauguration of the Jamil Iskandar Conference Room, a facility built with a generous donation from Iskandar's family in memory of a man whose dedicated and dynamic life was cut short by cancer in 2008.
In the keynote address of the ceremony, LAU President Dr. Joseph Jabbra praised Jamil Iskandar's notable education and career. With credentials from AUB and the London School of Economics, Iskandar was a successful businessman who founded and developed a number of companies in Lebanon, including B. Iskandar and Sons, the Iskan Group, and Holiday Beach Resort in Zouk.
"Jamil Iskandar was everywhere," noted Jabbra. "Not only in terms of business, but in terms of cultural presence, social presence, and community presence." But overall, Jabbra mentioned that education had always been Iskandar's priority, as shown in his association with such universities as LAU, AUB and NDU throughout his life.
Iskandar joined LAU in 1983 as an active member of the Board of Seers. His involvement in the university progressively increased, culminating in his position as Vice-Chair and then Chair of LAU's Board of Trustees. He also made several charitable donations to the university during those years.
"May this occasion," concluded Jabbra, "be a continuing celebration of Jamil Iskandar's life and achievement, and may his memory continue to be perpetuated forever at this institution."
One of Iskandar's sons, Dr. Benny Iskandar, also gave a short speech during the ceremony. He reminded the audience that Iskandar's contribution to university institutions was not utilitarian: "It had nothing to do with recognition or prestige. It was, plain and simple, a labour of love, a sense of civic duty, an appreciation of science and education."
"Of all my father's endearing qualities," continued Dr. Benny, "one stood out: for many of us, he was simply the kindest of men, the man with the biggest heart."
Following the speeches, guests where invited to the unveiling of the Jamil Iskandar Conference Room. Presided over by a smiling portrait of Iskandar and equipped with Telepresence conferencing facilities, the tasteful and sophisticated room was deemed a fitting memorial to someone who had always given his utmost to LAU.
Samir Kadi, Assistant Vice President for Development, praised the Iskandar family's choice to carry on with the legacy of Jamil Iskandar at LAU. "We appreciate all that they are doing for our University, which will always depend on loyal friends to see improvements in achieving academic excellence in Lebanon and the world."
Stories by Topic