Sonia Ibrahim Atiyah's Imprints on LAU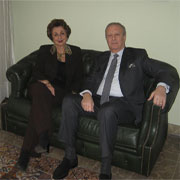 Maitre Zaghloul and Maitre Sonia Ibrahim Atiyah
"Education is a gateway to knowledge", says Maitre Sonia Ibrahim Atiyah, an LAU graduate from the class of 1956. "We surely need moral standing and strength to build a better world".
Maitre Atiyah didn't forget about the University that gave her a lot. She is now giving back to her alma mater, by supporting the Financial Aid Fund. She also left an imprint on LAU Beirut campus by naming a seat at the Irwin Hall auditorium. "Education is one important mean for the fullest intellectual development of a person".
Throughout her career as a successful and well renowned attorney, she has always been a true advocate of women's
rights and empowerment, and has tackled various legal, economic and current issues in the papers she wrote and during the numerous local and international conferences she participated in.
Stories by Topic