What Yvonne Aajine Kabban received, she now gives: scholarships through the Jad and Yvonne Kabban Endowed Scholarship Fund.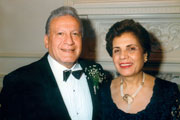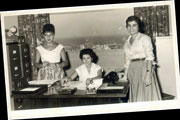 Pay it forward.
Education is vital.
Good nurses are hard to find.
These adages sum up the philosophy of Yvonne Aajine Kabban, whose life experience has made her a generous donor to LAU 's School of Nursing.
Kabban spent her childhood in Haifa, now in Occupied Palestine. When Israel took over Haifa, her family fled, seeking refuge in Lebanon. But the family businesses had been in Haifa. Their savings lost, the family had to rebuild from scratch.
This meant that money to educate the large family—six children—was hard to find. But through the goodwill and generosity of others, Kabban was able to attend school on scholarship. She spent part of her undergraduate career at LAU (formerly BCW), which resulted in a special fondness for the school.
Kabban finished her teaching degree with the help of a full scholarship, which carried with it the proviso that, working through the United Nations Relief and Works Agency (UN RWA), she teach underprivileged children in the Palestinian camps for one year. That experience made her fully appreciate the value of education.
What Kabban received, she now gives: $25,000 in 2008 towards the Jad and Yvonne Kabban Endowed Scholarship Fund. This scholarship fund commemorates her late husband, Jad Kabban, who was also a philanthropist.
Through the fund, Yvonne Kabban is now paying forward: paying for the education of a new generation of students, just as someone paid for her education.
The scholarship fund supports the education of aspiring nurses, a profession that attracted Kabban herself but that her parents opposed. Kabban's unfulfilled dream is not the only reason why the fund she established supports students of nursing. "When Jad was sick, it was really difficult to find him a good nurse," she said. After experiencing the shortage of trained nurses in Lebanon firsthand, she geared the fund to rectify the problem.
The need (nurses), the solution (education), and the means (funding): Yvonne Kabban gets it, and she has responded.
Stories by Topic