When relatives join efforts to honour a loved one….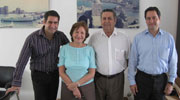 Fouad and Hilda Omais surrounded by their two sons Rabi and Rami
Rooted in boundless compassion, the love between siblings often knows no limits. In an act of generosity which bears testimony to the deep ties of siblinghood, a generous gift was recently given to LAU in honour of alumna Dr. Najla Atiyah by her sister Hilda Atiyah and brother-in-law, prominent entrepreneur Fouad Omais.
In November 2008, Lebanese-Ivorian Omais, regarded as one of the pioneers in the packaging industry, joined efforts with his wife in honouring Dr. Atiyah by generously contributing towards the Dr. Najla W. Atiyah Conference Room. The conference room was the gift of Dr. Atiyah's other sister, LAU alumna Mouniba Atiyah, and was given to honour Dr. Atiyah's life-long commitment to education.
Omais has complemented his successful businesses, which now constitute several branches, with a tight family-oriented work ethic. His two sons, Rabi and Rami, are the managers of the corrugated box company "EMBACI" and the printing press "MICI" branch, respectively. Since giving his sons the management of these two companies, Omais is taking care of his other companies, namely the construction company "RGGC", and the Real estate office. Meanwhile, his wife Hilda and daughter Maha sit on the board of administrators.
Although neither Omais nor his wife are LAU alumni, it is perhaps the importance of family that encouraged them to make their gift to the University by upgrading the Dr. Najla W. Attiyeh Conference Room into a smart classroom. This involved a generous donation that was invested in state-of-the art video and audio teaching and communication technologies, including an interactive whiteboard and high-definition videoconference system.
The Omais' timely contribution reflects the way in which not only alumni, but also donors with a variety of links to LAU, can enhance the university's commitment to improving the quality and relevance of education with tools suited to new generations of learners and teachers.
Stories by Topic